As with all Cavendish pianos the keyword here is 'tradition'. The Cavendish Baby Grand uses all wooden parts (no carbon fibre or new wonder-materials here!) to produce the tone that has graced English parlours and drawing-rooms for over a century.
With hand-wound English copper strings, and an action lovingly built in Yorkshire, Cavendish grand pianos are a return to traditional British piano craftsmanship. "Each action (hammer and damper mechanism) requires over 100 hours of build-time to get the very best out of the materials" says Cavendish technician, Mike Derrett. "There is no machine that can build an action better than doing the job by hand. It's a long process but the results speak for themselves – there's a difference between a piano that sounds "good" and one that truly sings!"
In comparison to other pianos, the Cavendish has less string tension, which is spread evenly over the length of the bridge. This reduced string tension allows for a larger soundboard, creating longer sustain, and a richer, singing quality in the tone (as well as longer piano life). A wealth of other engineering enhancements, including optimal placement of ribs and bridges, also contribute to the Cavendish's superior tone, stability and longevity.
The Cavendish Boudoir Performance edition grand piano offers a larger soundboard in comparison to other pianos of the same length, due to its innovative "wide tail" design. This wider construction of the case means that a 186 grand has the same soundboard area as a typical 196 grand piano, creating the power, complexity and character of sound, as well as the feel of playing a much larger piano.
British made using British made components without compromise.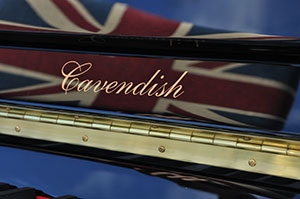 British Made Cavendish Pianos are made to the most exacting standards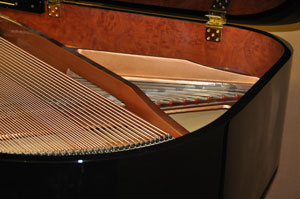 Innovative wide tail of a Boudoir Performance Grand.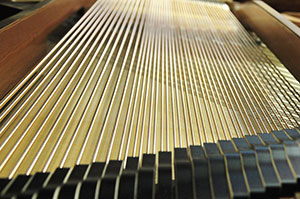 Detail of the interior of a strung grand
Price: £26,500

Includes matching adjustable stool and delivery
(UK mainland ground floor)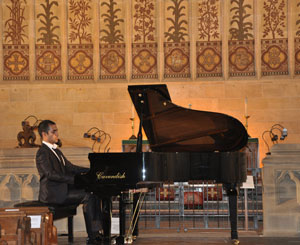 Performance by Emanuel Vass at Bolton Abbey Priory
High gloss ebony piano-black finish as standard.